Welcome!
This is my home page,
I welcome your questions & suggestions.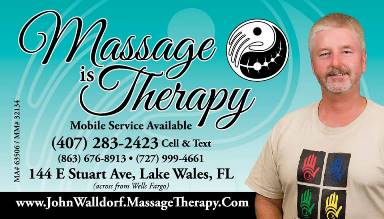 For Scheduling please call to text me for the fastest response at
407-283-2423.
You may of course also email me by using the contact link or directly to johnsgardens@msn.com
Please visit and like my Facebook business page.
https://www.facebook.com/JohnWalldorf.LMT.MobileMassageTherapy This is where I share the latest information I find that I think might be helpful to my clients and fans. It is also where you will see specials posted and other news about my practice. You can also message me through my page, even if we are not Facebook friends.
Another location for my recent reviews and my answers to common questions: http://www.thumbtack.com/profile/services/zj6ti58HonlW0Q/
Massage Therapy & Body work,
Mobile Service, outcalls, are available by appointment, please call for an interview.
Main Office in Historic Downtown Lake Wales,
144 E. Stuart Ave. Ste. 300
by appointment only MM#32134.
Also offices available Haines City, & Saint Petersburg.
Serving Lakeland, Tampa, Saint Petersburg & Pinellas area Beaches with mobile services.
MA#63506, ph: 407-283-2423
Call or Text for more info and Appointment arrangements.
Offering Corporate/Office Chair massage;

Home visits available for established clients, qualified referrals, & resort guests at Bay area hotels, condo's, time shares, beach rentals, etc.
Florida Licenses Massage Therapist MA# 63506
You may contact me through this sites email inquiry, or my general email: johnsgardens@msn.com
You may also find me on Facebook:
https://www.facebook.com/JohnWalldorf.LMT.MobileMassageTherapy
You may also call or text me directly @ 407-283-2423
I am a member of the Lake Wale Chamber of Commerce:
http://lakewaleschamber.com/member-directory/823/john-walldorf-massage-therapisthorticulturist/
I'm also a member of THUMBTACK :